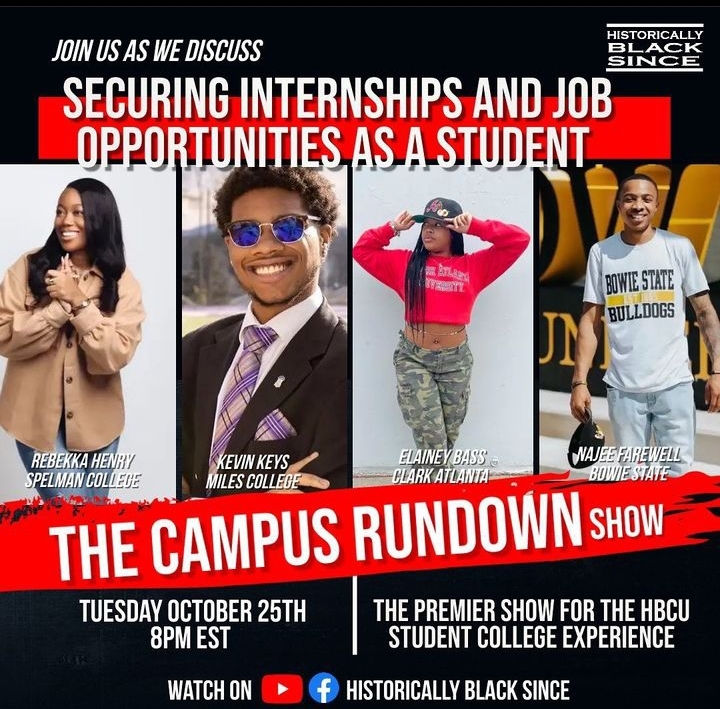 Homecoming is over and classes are nearing the end of the semester. On an episode of Historically Black Since TVs "The Campus Rundown", HBCU Students Elainey Bass (Clark Atlanta University), Rebekka Henry (Spelman College), Ira Moore (North Carolina A&T), Najee Farewell (Bowie State University), and Issamar Kirby (Virginia State University) spoke about the importance of internships and gave resources on how to apply and obtain these opportunities.
Elainey Bass starts off saying, "It's important to have a resume. I made a solid resume recently due to one of my professors. It's also Important to make connections and include a breakdown of all of what I've done in my resume. Clark Atlanta University has "Handshake", where students can look up job opportunities and job fairs to attend. Alumni are a big help too, I recently got an internship through an Alumnus, now I'm co-hosting a radio station. You have to want it or someone will take it from under you if you are complacent."
Rebekka Henry says, "When you do a internship you have to actually put in the work and it's a whole different dynamic that'll prepare you for your career. Don't be confined to one organization, spot or track, be prepared to grow and learn. I loved my past internship but some of my peers didn't despite the fact they were being paid good, it just wasn't for them but it's okay and make sure to have the connections. Get involved on campus, whatever field you plan on going in there's a club on campus for it that you can join. With plenty of organizations on campus to get involved with that'll help you advance and get to the next step in your career.
Talk to your professors, especially for your major classes. They are still making accomplishments and may have connections, opportunities or internships that'll help you get to the next level. Take the initiative and have conversations with them, they're all there for a reason. Things can be overwhelming but you have to be strategic if you wish to succeed on campus and in your field. Look out for E-mails about lunch-ins or meetings on campus and try to stay for at least 30 minutes to network. We can take faith out of context, wanting opportunities to fall into our laps and thinking it'll come to us. In a way it will but you have to manifest and truly chase your dream."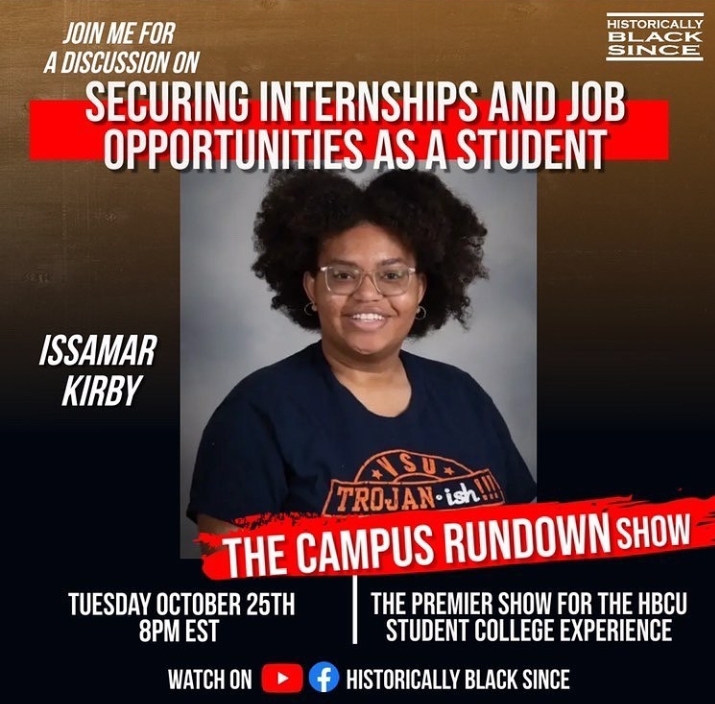 Following up with Issamar Kirby saying, "Have a cover letter and get a nice headshot as they are important, dress professionally and look accordingly. Try to participate in mock interviews or practice on your own for when you get into that space so you don't panic and do well. Search in your specific department or the department chair for internships. Externships, mentors and LinkedIn are all good tools as well. LinkedIn being very important to have to showcase your professional work and it is paramount to have even if you're a freshman, you can connect with people, follow them and it is a great overall business platform to find opportunities and connect with scholars similar to yourself."
Ira Moore says, "Tailor your approach, do your research on the company you're working for and see what's required of you, what that company does and how you want to grow within the company. Get yourself in front of their company representatives and show that you're eager to work. If there are any professional organizations for example, pre-business or pre-law that host any conventions, career panels or career fairs, look into it."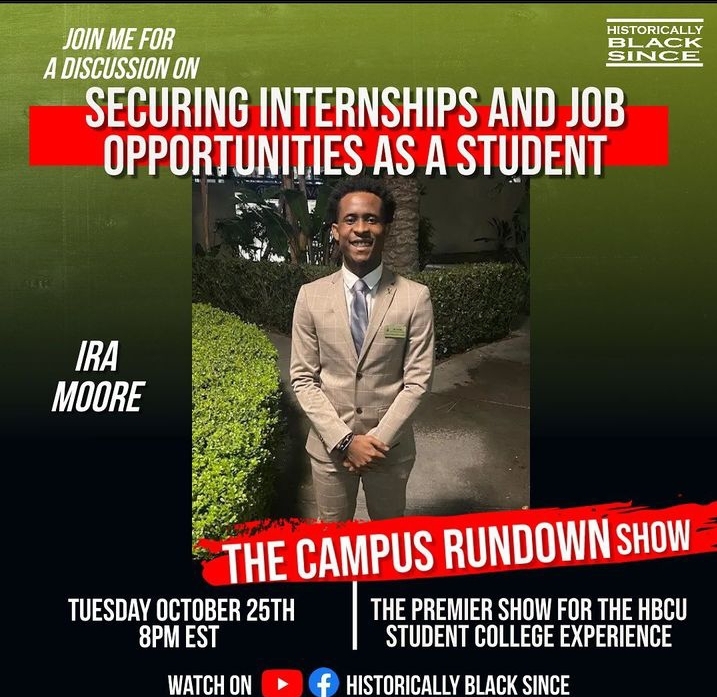 Last but not least, Najee Farewell says, "You have to want it, the job won't find you so you have to take initiative. Hang around the right people, go to job fairs, career fairs and while you're in school having fun remember that you're there to get your degree and be successful. From my past experiance from interning with atleast five top Fortune 500 companies, some were good and some were bad so make sure to keep your options open. I now work in the government at a Black owned company with a Black manager. You don't have to wait untill you have a degree to work in your field. Don't knock unpaid internships, they can help build stepping stones and I waited untill my junior year to tap in and wish I had done it my freshman year."
It can be challenging for freshman to obtain internships due to the fact that most employers prefer juniors and seniors or someone with plenty of experiance. If you find it difficult, put yourself out there, believe in yourself and know your competition. Never give up and always utilize the abundant resources on and off campus. With hard work and perseverance, your potential is boundless.
You can use the links below to apply for internships and recieve alerts for when new opportunities arise
https://www.sco.ca.gov/eo_about_jobs.html