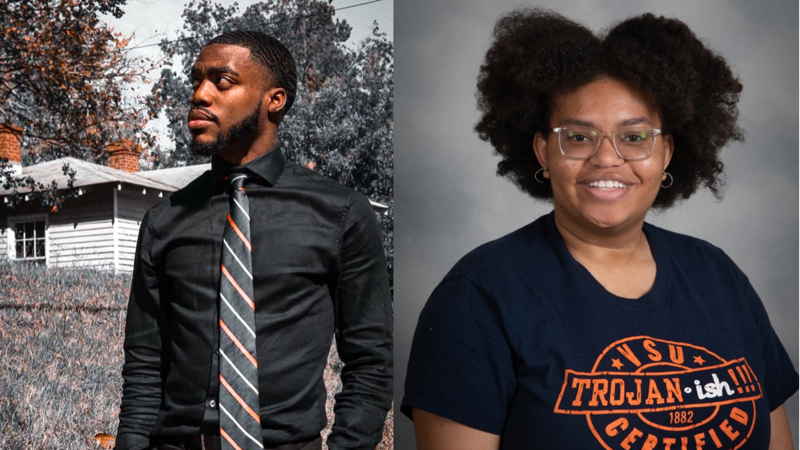 One thing that matters in this world and especially on an HBCU Campus is representation. Your image and how you conduct yourself will always be the first characteristic people see. On an episode of "The Campus Rundown", we had a chance to speak with Issamar Kirby (Virginia State University), Dionte Davis (Virginia State University) and Bernard Adams along with his line brothers of the Gamma Gamma Chapter of Kappa Alpha Psi Fraternity, Incorporated on how to brand yourself on campus.
Something important that every student should know is making a name for yourself on campus is important and that can also transition into the professional world. Issamar speaks on the process she went through getting involved on campus saying that at Virginia State University, in your freshman year you're not allowed to join organizations so that you're able to fully focus on your GPA and can successfully transition from high school to college. She threw herself in right away once she approached her sophomore year, adding that it's been busy but it's truly exciting. The tips she has for freshmen who are allowed to join orgs are that your personal brand is who you are off paper. It's not your resume and it is important because it takes a while to curate it but can take only a minute to destroy it. Think about your image, how you're perceived when you're outside of a room, your lasting affect when you're no longer there and don't burn bridges. Be polite but keep those contacts alive and you'll never know when you need them down the road. Dionte, agreeing mostly with Issamar, also adding that as a freshman, how you interact with your professors are crucial. Are you going to class early or on time, attending meetings, getting to know your peers. Whether you know them or not just smile, have a conversation with them and make sure everyone feels validated and recognized. It speaks volumes about you and sometimes it's easier for us to get in over our heads and our own sense of self sufficiency and identity to forget that people exist outside of our personal being as it is important to shed a light on others. The key word and main focus our freshman year is staying focus. Your freshman year is where you start your brand and future. Your appearance is everything whether it's visual or mental. Make sure to put yourself out there so people can look at you, be open and just be yourself. Without focus in an HBCU environment you can be easily deterred from your goals and becoming the best version of yourself.
[ ]
Honors College offers an enriched, accelerated curriculum. High-achieving students can apply to honors colleges as freshmen or upperclassmen. Admission is highly selective, leading to smaller classes and unique academic opportunities.
Dionte goes on to say some of the requirements of being an Honors College student. Stating that you must have a 3.4 GPA or higher and maintain a 3.0. You must be an active member on campus, have a provost or presidential scholarship, and have continuous growth on your resume as you go through college. They're keen on offering you opportunities and some students are offered to go to the Leadership Institute which was founded by the Thurgood Marshall College fund in New York. Honor College students can have the opportunity to travel and study abroad along with giving you credits for the university. Advisors do an amazing job of putting you in the place you need to be, intruding you to companies, CEOs and more to advance your career.
Of course, your freshman year can be nerve wrecking and it's easy to be closed off and overly self-conscious. The students on the panel give tips on how you can still be involved on campus despite being an introvert. For introverts, people who wish to be a part of an organization, fraternity, sorority, etc., make sure to research, join clubs and engage in different activities. Make sure to show your face, branch out and talk to students and faculty on campus to decide what's right for you. Believe in yourself, if you believe in yourself you're able to do anything before anyone in an organization believes in you. Find a mentor or sponsor, there's a vast difference between the two. Find someone that makes you comfortable and that you can connect with. It might be easier to find one person to connect with instead of expressing yourself to a group of people. Doing that will hopefully ensure you finding the potential in yourself, says Dionte.
Keeping up a positive image plays a great part if you wish to join an organization or wish to find opportunities. The importance of keeping that great reputation for yourself as you build your personal brand throughout your college career. The first thing about your image, especially as a man, is to walk out with your chest out and head up. Everyone is watching whether they know you or not, wherever you are someone is watching and you never know the Impact that that person can have.
Always keep a high head on your shoulders, smile as much as you can and don't go around campus doing foolish things, says the Talladega Family. Dionte goes on to say, "Often times people forget regardless of where you are people are watching you, we aren't perfect. You'll make mistakes so always be aware of that and don't let those mistakes define or determine you. Keep the pace, keep your head up and walk with your chest out. Maintaining the positive image you have for yourself is very important. It's also Important to take a break, be humble and be proud of who you are and what you do."
Two tips that Issamar leaves us with is to find out what makes you unique. Dig deep and do some self-reflective seek to see what sets you apart from your counterparts. Also, be open to feedback and constructive criticism. Sometimes people don't understand that you'll make errors and will grow no matter how far you get. Always be open to constructive criticism that'll help you go far and grow. 
You can watch the full episode on Youtube below.